For those of you who have the Boye Needlemaster and Denise Needle sets:

What kind of changes or improvements would you make?

I've been flirting with the idea of designing an interchangable needle set with some relatives overseas who work in a plastics factory. One idea is to obviously make something with a greater range in sizes, maybe size 2 through size 17. I also thought more cord lengths would be great, better packaging, color coded needles for different sizes, and if possible a way to make DPN's. We would also have to come up with an original way of locking together the needles to avoid patent problems so that would be quite a challenge.

Anyway, over the weekend I made an additional bunny hat for my nephew. I found a mistake in the larger size for the pattern in Stitch n Bitch Nation. Basically, after you join the stitches in the round and place a second marker, the pattern should read: Next rnd: P5, k40 (48), p5, sl marker, p to end of rnd. I couldn't find this correction on the bust.com site so I guess not many people have made the larger size yet.

On to the pics!



Peter Rabbit hat with squiggly eyes: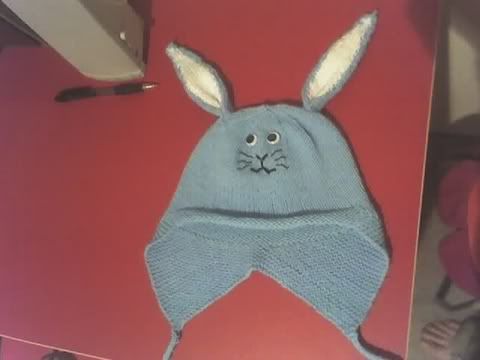 My nephew in his new hat. My sister-in-law was thrilled!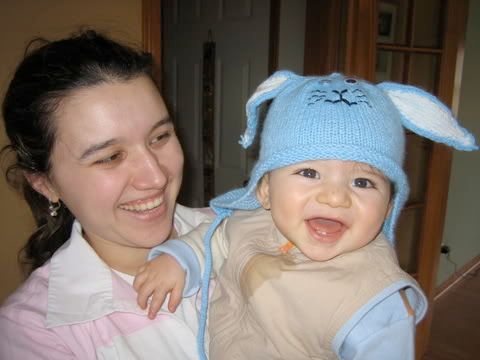 It was so big, it fit my husband: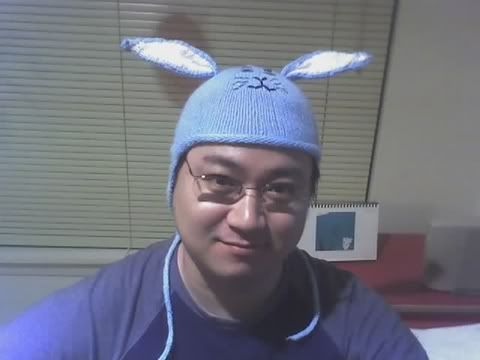 Here's the original one I made again in pink for my unborn child (due in only a month!), modeled by my dog. I can't wait until next winter when they can wear their little hats together.