Can anyone recommend any extremely goofy/crazy hat patterns? Graduating seniors at my school always wear crazy hats to class day in the spring, and I think it would be really fun to knit myself something totally off-the-wall.

Ideas I've come up with so far include:
- the flying spaghetti monster hat
- something with crazy flowers and butterflies sticking up (wired?) all over the place
- a hat with a ball of yarn, needles, and an (unfinished?) swatch stuck to it
- the hausfrau hat from knitty
- a klein bottle hat

Any other ideas? It's not necessary for a pattern to exist; I'm pretty good at improvising hats. I'm basically looking for ideas for hats that would be knittable, if someone took the time to come up with a pattern. the only real limitation is that it probably needs to be something I can knit in cotton yarn - graduation is in may, and wool would be way too hot :-) So, any thoughts?

In return for your advice, I give you an FO!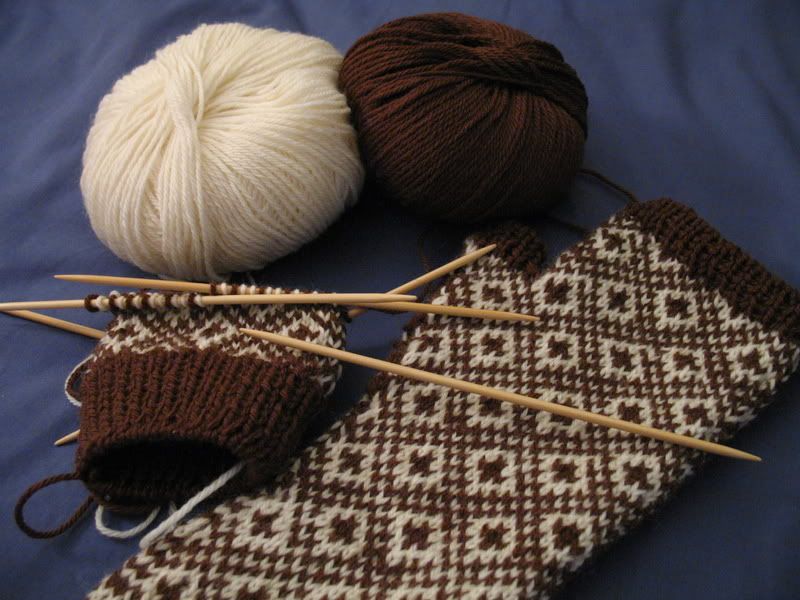 I've finished the second mitt since taking this picture, but haven't had a chance to snap a pic of the finished set. These are the endpaper mitts, using Reynolds Kids Washday Wool in white and brown, size 1 and 2 needles.
I like these enough that I'm going to try making another pair using the same shaping but with a different stranded pattern, perhaps something mini-argyle-ish. we'll see.