So I participated in the Unconditional Swap over on craftster, basically you post a wish list of three things and crafters choose you based on the requests, but unlike normal swaps you do not send something back in return, it is all about the karma. I enjoy giving things to other people so at first this swap had no appeal for me in terms of putting up a wish list myself, but as I have gotten more into knitting I have also gotten more poor, so I decided to take this opportunity to request some yarn. I asked not to be sent acrylics but other than that for who ever picked me to just do some stash busting. This is what my partner sent me: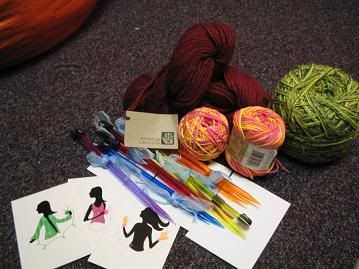 2 hanks of Manos del Uruguay (about 138 yrds. each), 2 skeins of Sugar n' Cream, and a giant ball of Mermaid, a yarn specially made for her LYS, plus a selection of needles and knitting cards.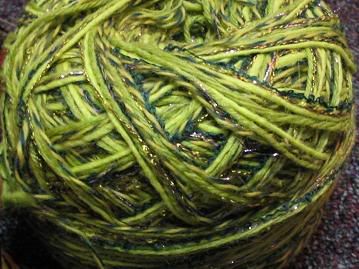 Close up of the mermaid
The yardage on this is a mystery, the person that sent said that even the people at the LYS did not know how much there was, the only measurement I can come up with is big, seriously this thing is the size of my face!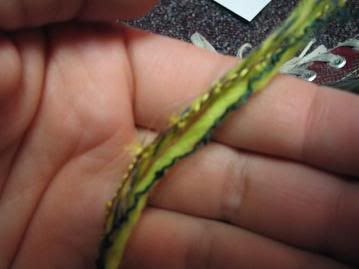 Close up on an strand

The generosity of knitters and crafters is amazing; instead of just sending a few skeins of low cost knit picks yarn (although I would have been ecstatic with that as well) she sent what has to be something like $40 dollars worth of really nice stuff.



So, I'm somewhat at a loss as to what to do with my fabulous new yarn, all the projects that I've been eyeing lately have been with worsted or DK weight yarn and will not translate well to the Manos or Mermaid. Anyone who was worked with either of these, or similar yarns, do you have any project recommendations, something that shows of the yarn in a stylish fashion?