My father has been looking for years for a bright red vest. All he found in the stores were burgundy, deep red, etc. Nothing close to the Flaming Red he wanted. He stopped looking about 10 years ago and I forgot about it, until it unfortunately popped back into my head last month. The yarn was so vibrant it hurt my eyes if I worked too long on it, and I got a headache yesterday finishing it up. There's been some discussion here about on-line yarn sites and color reliability, and I can vouch for Knitpicks WotA red being garishly bright, luckily that's what I was going for.

Yarn: 7 balls Wool of the Andes from Knitpicks in red.

Pattern: Interweave Knits magazine, Spring 2005, Skye Tweed Vest by Kathy Zimmerman, using my own central cable pattern and worked in the round up to the arm hole shaping instead of working 2 flat pieces.

Needles: US 6 24" circular for the bottom ribbing 16" for the arm holes and neck (US 7 was recommended), US 7 35" circular for the body (pattern suggests US 8), US 7 straights for the upper section.

Gauge: 20st x 28 rows = 4" in stockinette stitch with larger needles.

Finished size: 45" chest.

Start date: Feb. 11, '06.

Completed: Mar. 2, '06.


The ribbing was done on Clover bamboo needles and it went very smoothly, they are my brand of choice. I purchased Crystal Palace US 7 circ's and had major splintering and metal join issues even though the packaging said it was the new improved join. Once I worked up past the arm hole shaping, I switched to some old Susan Bates aluminum straights and had a much quicker and smoother time knitting.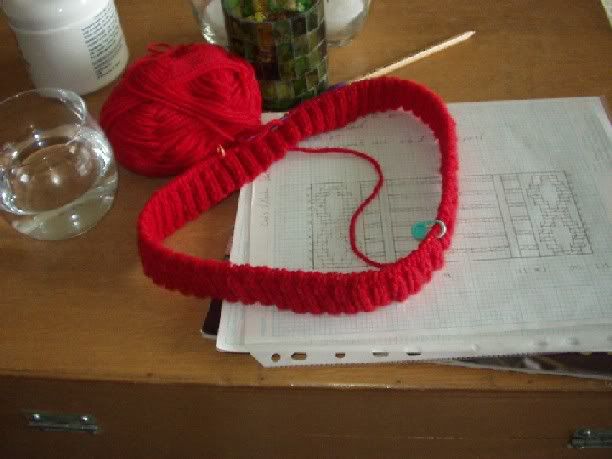 A WIP shot that is closest to true color. I made a mistake in one of the twist cables, so I made that side the back and Dad won't notice it. About the yarn, it was ok to work with, good enough quality for the money but it wasn't as nice as Cascade 220 or Galway. There was nothing specifically wrong I could put my finger on, I'd use it again though I still prefer the other worsted wools over WotA.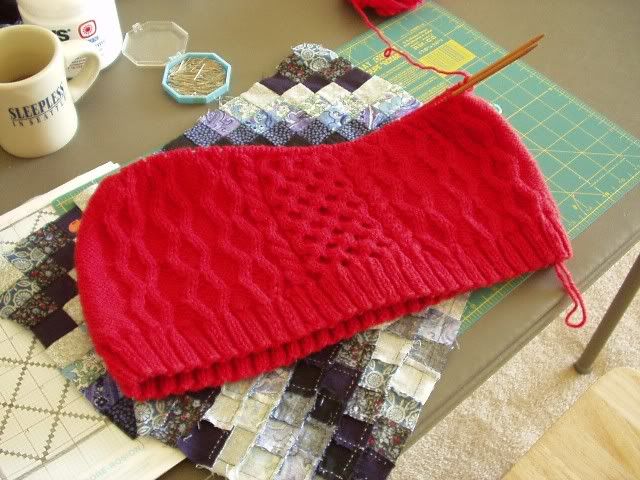 Here's a shot in the sunlight, though the color is a bit washed out.



This is the shot of the back, taken with less sunlight for some color comparison.