last october, i was in portland and found a lovely yarn shop with some of my friends. while there, i picked up some debbie bliss cotton/cashmere yarn that isn't stocked at my LYS in minneapolis. i bought it knowing that it was too expensive and luxurious to ever justify making something for me, but i bought a small amount to make something for my three and a half year old.

after sitting on the yarn for a while, i finally decided to make a dress for my daughter about a month ago and i finished it on sunday. i didn't follow a pattern, but kind of winged it as i went. the dress was knit in the round on size 5s. the bottom detail is taken from the book knitting on the edge, and is a pattern that my daughter picked out for the dress. after that, it was decreases on the sides every six rows until i got to the waist, and started using more colors. each color stripe is stockinette to the last row, and then a row of garter stitch. also, in order to incorporate each of the colors that i bought, without having a ginormous top for such a little munchkin, i knit one less row for each color, as i went up, as you'll see.

it's not a magnificent object, but it's the first thing i've made for my daughter that she actually likes. she put this on right away last night when she got home and wouldn't take it off - even to sleep. so, i feel pretty successful about the enjoyment factor of this garment, even though it's pretty basic in construction and wasn't much of a challenge to actually make.

here are some pictures of the dress, as modeled by my daughter who probably watches too much project runway and america's next top model with me (hence the modelesque poses in the photos):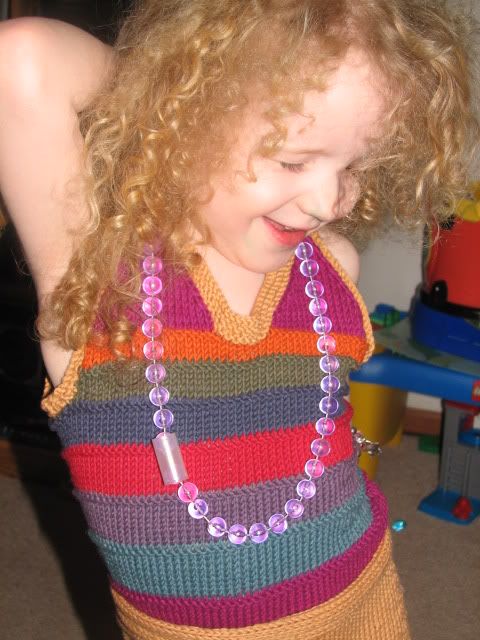 top detail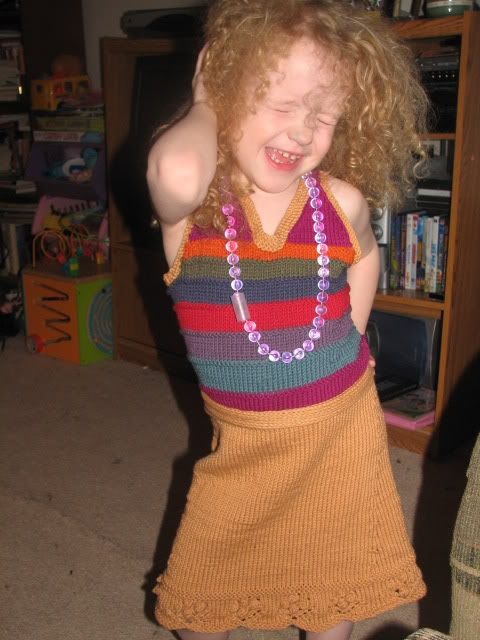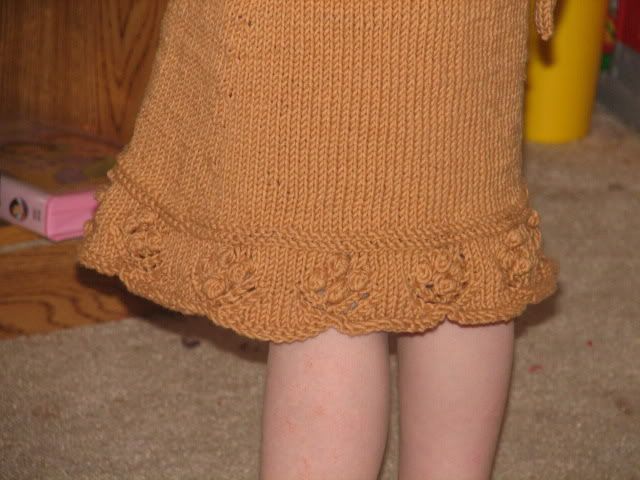 close-up of the flowers at the bottom of the dress




overall, it was a fun and easy project to work on, and i think that i realized my vision (god, too much project runway!) well. i plan on making a wrap cardigan of sorts to wear with the dress in the near future.

and, for what it's worth, knitting with the debbie bliss was a dream. i don't usually use such luxurious yarn, and it is very soft and easy to work with. i'd highly recommend it for projects for tots (or adults, if you can afford it!).