Hi, everyone!

I have a question about a sweater that I'm working on at the moment. It's kind of a mix of two patterns but for the sleeves and yoke, I'm using this pattern by Stefanie Japel. My sweater has a black body, but red-and-white striped sleeves. When knitting the yoke in this pattern, it's all done in the round, right around the body and sleeves. Meaning that I need to knit so many black stitches, tie on a red strand and knit, tie on a black, and then tie on a red again. For every single row. I gave up after one or two rows and the sweater has been laying on the floor all week.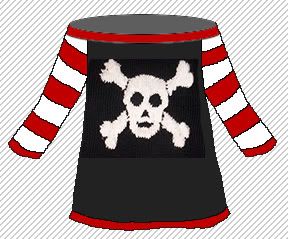 My "design". (100% inspired by this, by the way.)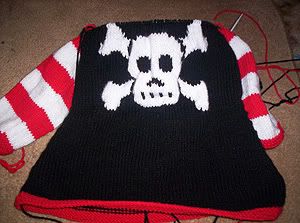 Progress so far.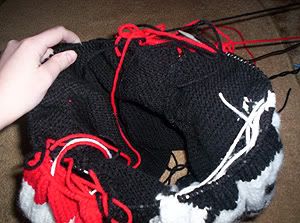 THE HUGE MESS that intarsia + tying off a million threads produces.



So my question for all of you is: what's the best way to go about knitting the yoke? Should I give up on having stripes all the way to the top and just use black? Should I pull out the bit of yarn on the inside of the ball (I always use the outside strand) so that I have two pieces of yarn to work with (one red for each sleeve, and one black for each side)? Should I suck it up and keep going as I am?

Thanks in advance!