I recently made a small project bag with Intarsia Carrots on it.

The bag I first envisioned was going to be a Bunny Head complete with Big Bunny Ears.

Right. No that didn't work out. I was running out of the lovely soft grey yarn and couldn't get any in the same lot. So instead of making a Bunny Head Bag I made a Carrot Bag. (I made this for a friend who raises Angora Rabbits and says Orange is her favorite color, hence the bunny theme.)

The bag looks a bit lumpy in these pictures as it was stuffed full with Sock yarn, needles and a few other treats.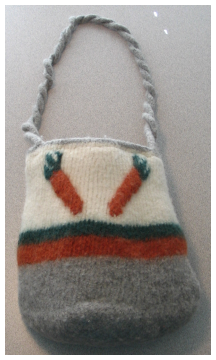 Pattern: My First Original Thought Out To Completion Knit Design :D
Yarn: Cascade 220 In Grey 8401 & White 8010 & Dalegarn Tiur (60% Mohair and 40% New Wool) In Green 7562 & Orange 3436.
Yardage: Total of the four skeins I'd say I used roughly 310 yards. I have just a bit left of the white and grey Cascade and at least half of each skein of the green and orange Dale. The Dale was thinner than the Cascade so I double stranded it for knitting. Which was cool because it made the carrots be a little raised and it looks super neat.
Needles: Clover Takumi US 9 / 5.5mm 29" Circular
Gauge: 9 Stitches Per Inch / Aspect Ratio 1.368

Notes: I wanted to use my own design for this. I've never knitted a bag from a pattern before, but it seemed like a good idea to jump in feet first. I've learned a lot and my next bag will be even better. :D I got the idea for how I wanted to do this from a knit bag My Best Friend sent me months ago so I could see what felting was like. The bag she sent me was the Sophia Bag. So even though I just made up the bag as I went along it was inspired by the Sophia Bag. :D It looked like the bottom was a knit and then the stitches picked up. So I decided on a shape for my bottom piece and went from there. The shaping was a simple enough thing to reason out. I just did some simple decreases where it seemed logical for them to be. This bag has it's flaws and is by no means perfect, but it's fun and made especially for a person who is really into Rabbits so I'm hoping she will like it.

I started knitting this bag with the idea of the Bunny Head on July 4th. That's why the bag has a Triangle bottom. I was going to make the bag have a rounded shape with a side that was the face forward end. Plus it would open up the bottom of the bag with room to keep yarn and all knitting tools a person might carry around for a small project like socks. Later that day it became painfully obvious that I was not going to have enough of the grey yarn to make it as I was picturing it. I wanted the bunny ears to be big and floppy and grey, a grey that was a perfect match. So the next day I went to My LYS and looked around at the Cascade. By this point I had the idea for doing Intarsia carrots in my head. They didn't have any orange though. Then I thought maybe I'd just do some embroider carrots on it with some really cool looking shiny silky cotton stuff I saw, but it wasn't really what I wanted to do. I was able to find some lovely soft Orange and Green Dale that would work though. When knitting it pays to keep an open mind and be flexible I've found. *L*

It was then that I decided I better chart out what I wanted these carrots to look like. I looked online to remind myself what a real carrot looks like. It's been years since I've really looked at a full size carrot. Now all I ever have are those Baby Carrots.

After deciding what general shape and size I was going for I drew a few rough carrots and decided I wanted it to be a slanty carrot and not just an upright carrot. At this point I needed some knitting graph paper. So I went to Google as you can find most everything there.

On Google I looked up knitting graph paper and came up with Knitter's Graph Paper at Needle Pointers. I played around with drawing some carrots on the graph paper until I decided on my general shape and size and then I plotted it out with colored markers and that was that.



Here is the chart if anyone who might happen upon this should ever decide they want to knit carrots for any reasons. *L*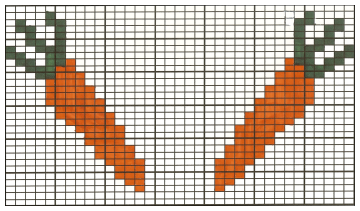 It took surprisingly no time at all to finish the knitting portion for the body of the bag.

After I finished the iCord straps I washed it to felt it like 4 or 5 times. It was slow going. I have an energy efficient washing machine. Next time I will try going to a Laundromat to see how much faster it takes to felt in a tougher machine.

Here's what the bag looked like before I felted it.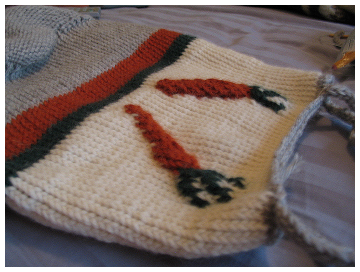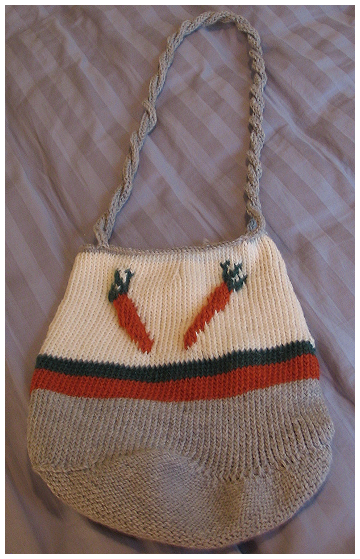 I blocked it with plastic bags and packing peanuts. When you squeeze the air out of the bag you can pretty much mold it to whatever shape you want kinda like clay.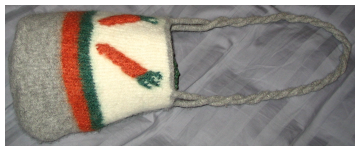 Here's a shot of the bottom while it was being blocked. The packing peanuts inside the plastic bags really helped me to get the triangular shape I was going for.



I let it sit for the last month as I was terrified to cut into the carrot fabric I had purchased for the lining. It was hard to find fabric with small carrots on it and I didn't want to mess it up as I was about two thousand miles from the store I got it from.

On August 6th it couldn't be held back any longer. I had to get going with the lining so I could mail it to my friend.

It wasn't as bad as I feared. I've never sewn anything before so having no idea what I was doing I just did what I thought seemed reasonable. I made it through. It's functional if not pretty. *L*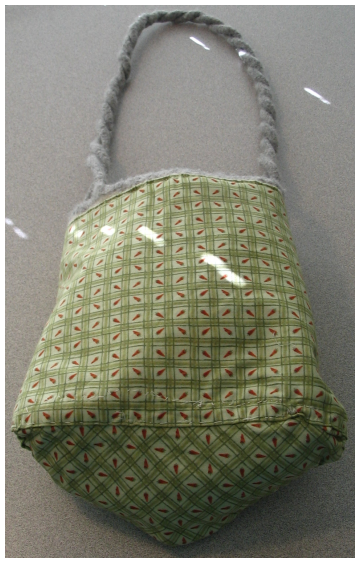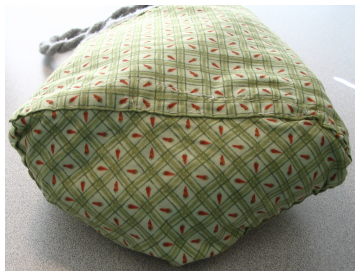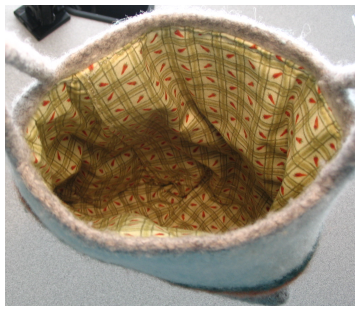 Here's a close up of the carrot fabric.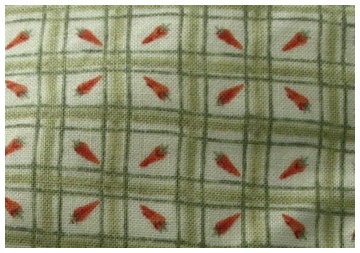 I have no idea of this was the right way, but it's the way I did it and as there aren't any sewing police I figure it's all good. Right. So I made the lining and sewed it up into a pouchy thing and then sewed it to the bag itself. The complete date for this project was August 14.

Things Learned: When picking up stitches for the base of the bag, make sure you get them all otherwise it will bunch up kinda weird after being felted. o.0

If you've never knit intarsia before you only need to rember one thing: "At each color change, the old color is brought OVER the new color; then the new color is picked up from UNDER the old color and worked from there." It's that simple. Nothing to be afraid of as I have had many advanced knitters tell me. :/ I was told I shouldn't be doing this stuff yet. I was told I was a fearless knitter for trying. Truth is I wasn't aware I was "supposed" to be afraid until other knitters told me so. Just shows you shouldn't listen to people just because they have more time with the art uder their belt eh. If you can knit in Stockinette you can do Intarsia. You have nothing to lose by just trying.

I also wish I had sewn the lining in a bit closer to the edge so it didn't create that odd looking crease just under the grey. But this is how I learn. I wasn't sure how sewing onto to a felted knit would react and now I do. :D

This bag is a lot of firsts for me. My first Intarsia (well I made a small swatch with a circle once), My first original creation, my first iCord, my first time knitting in the round with circular needles, my first knitting with more than two colors of yarn, my first charted creation, my first time sewing.

Basically I just kinda figured it all out as I was going along. I had an image of what I wanted in my head and then I just had to make that happen.

The biggest lesson I learned was that the fear of making a mistake is far worse than any mistake you could actually make. Plus if you don't try you'll never get anywhere. Though it was the sewing that scared me more than the knitting. *L*

I think I'm going to make myself a bag similar to this in the next month or so. Only instead of carrots I'll make it with Pumpkins and vines. :D

It may not be much, but I made it from nothing but an idea inside my head and that's pretty damn cool. Plus considering I only just started to teach myself to knit at the end of March it's not bad at all. *L*

Dial Up Warning: Image and Text Heavy