I just joined this community so I can get some knitting friends, as my knitting
circle off the internet is sadly rather small...
So! Currently I am working on a pair of mittens, but I've run into some
trouble with the thumb gore. I've only ever made a peasant thumb and the gore
is charted out with very little word or graphic instructions, so I am afraid I
am quite lost.
I am using the classic mitten pattern from Marcia Lewandowski's Folk Mittens
book, if anyone knows it... But how on earth do you work the thumb gore?
Here is what I mean: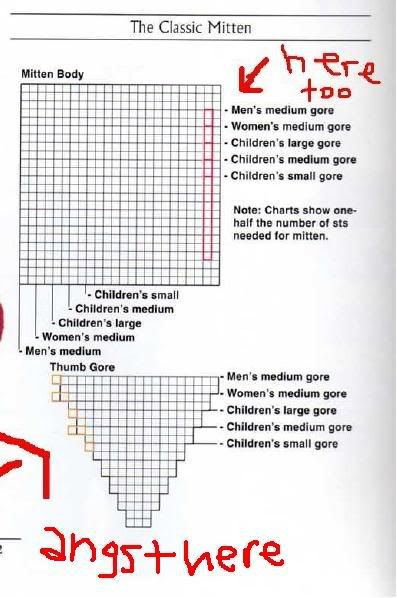 the only text that accompanies this is:
On the next rnd, begin normal thumb gore and work as charted for 18(the measurement I'm using) rnds-19 thumb stitches.

There is some text in the first part of the book before the patterns about the normal thumb gore, but there is no real explanation of the chart... The only conclusions I could glean were these(which are probably more wrong than right).
-It seems to me that the three stitches at the bottom of the gore chart correspond to the bottom square on the marked off bit for the gore on the main mitten chart... So make three stitches after knitting one... then m1, knit the three, m1... but I don't know. That's really all I could get from it...

Thank you to the mods for advice on this post! And thanks in advance for any help!